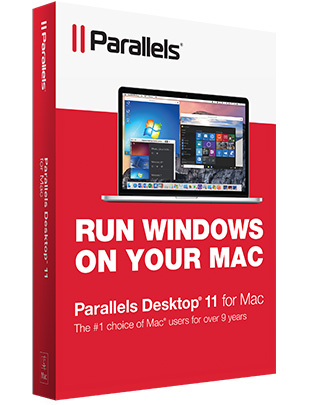 Parallels Desktop® 11 for Mac

With Windows 10 and Cortana Support
Parallels Desktop 11 for Mac is the fastest, easiest, and most powerful solution for running Windows applications on a Mac –– without rebooting.

Easily switch between Mac and Windows apps.

Powerful performance lets you run Windows productivity applications, and demanding graphical apps, without compromise.

You can even extend Microsoft Cortana®, your virtual personal assistant, to your Mac.

Launch Windows apps from the Mac Dock, use Mac gestures in your Windows apps, and copy & paste or drag & drop between Windows and Mac apps.

You can use Internet Explorer®, Windows Media Player, Visio, and other applications not available on the Mac, and the full-featured Microsoft Office for Windows is faster than ever.

If you're new to Mac, you can keep the familiar Windows experience on your Mac, including using your desktop in full screen.

Leverage Google Drive, Dropbox, OneDrive, or other cloud services, seamlessly between Windows and Mac.

Parallels Desktop 11 is ready for OS X® El Capitan, and supports a variety of operating systems, including Windows 10, Ubuntu and other Linux distributions, Chrome, and older versions of Windows.

In the Virtual Machine Wizard, select your primary usage scenario and Parallels Desktop will optimize your virtual machine settings for you.

The new Travel Mode will optimize settings to extend battery life, as well.

New—Parallels Desktop for Mac Pro Edition is the preferred solution for developers, power users, and other demanding pros looking to increase productivity.

Parallels Desktop—the #1 choice of Mac users worldwide for 9 years.