Cisco
Driving employee productivity and satisfaction with Mac.

It began with 2500 engineers bringing the Mac to work. Now almost 50 percent of Cisco's 70,000+ regular employes—in nearly all lines of business—use Mac as their corporate computer.

Cisco is shaping the future of the Internet—and the world. A global leader in networking, Cisco transforms how people connect, communicate, and collaborate. So when its engineers tapped into the power of Mac, it began a movement that reshaped how employees use computers throughout the entire company. Today Mac computers are used across many lines of business, and by almost half of all Cisco regular employees, from software development in engineering to mobile collaboration in sales.

"Mac was a catalyst for transformation at Cisco," explains Colin Seward, IT Senior Director at Cisco. "Community support models started with an enthusiastic Mac community, then spread to other IT services, and now to other services like corporate travel."

Engineers Lead the Charge for Mac


Cisco engineers began bringing Mac computers to work, in many cases because the flexible platform let them access UNIX and Linux capabilities, as well as their productivity applications, all on one system. So what once required multiple systems—for example, one PC to run shell scripts and another to check email—could all be accomplished on a Mac.

Employee Satisfaction Drives Mac Use


As a result, Mac computers have become extremely popular throughout Cisco, in particular within the sales and marketing organizations. Executives and sales reps alike use Mac computers for presentations and collaboration. "Our sales reps choose a Mac because it's powerful, lightweight, intuitive to use—and because a Mac makes a positive impact when meeting with customers," Potter says. "It's an absolute fact that the Mac has the coolness factor." The clean, easy-to-use interface of OS X and the MacBook Pro with Retina display help employees find and view all the resources they need, in high resolution.

"User Touch": A New IT Approach


Always on the lookout for ways to innovate, Cisco's IT team took careful note of the lessons learned from their first self-supported Mac community. As a result, the team has reinvented how they address computing services across the board—not just for Mac computers, but for Windows PCs as well. "Apple's hardware design and user-centric approach to support really gave us ideas on how to raise the bar for user experience across a lot of our different services," explains Seward.

Cisco Paves the Way for Other Organizations


Cisco is known for its networking solutions worldwide, and now more and more organizations are turning to the company for advice on deploying Mac computers. For those considering a deployment that allows technology choice, Jordan can offer guidance based on experience:"It's important to first step back and decide what your overarching policy and strategy will be, then stick to it.





"We're giving our employees the best way to operate," Jordan explains. "As a result, our IT team can focus on the bigger, more impactful business applications that will deliver substantial value for the company."

To learn how the Mac fits your organization, please contact your MacMall Account Executive at 1-800-622-6255.
"Mac has become pervasive across every function in our organization—represented by the fact that nearly 50 percent of our regular employees choose Mac."

— Sheila Jordan, Senior Vice President IT Communications and Collaboration, Cisco


"The Mac gives engineers total portability combined with UNIX and Linux capabilities—that's a major reason our engineers choose MacBook Air and MacBook Pro."

— Gail Potter , Personal Computing Service Manager, Cisco



"The elegance of the Mac design shows that you can have something that is a pleasure to use and yet functional at the same time."

— Colin Seward, IT Senior Director, Cisco



"My advice for engineers is to move to a Mac—you'll be able to do more with your time."

— Shean Ratliff, Systems Engineer, Cisco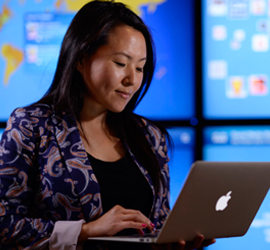 Why Mac is an employee
choice at Cisco

For IT team, the elegant design and user-centric approach inspires a new support model.
For sales organization, the powerful, light-weight form factor improves mobile collaboration.
For engineers, the flexible platform enables greater productivity.